Career Circle: Preparation for Your New Role
Jodi Brandstetter
The Career Circle Blog Series focuses on developing your HR Career Strategy through Career Search, Company Integration, Company Advancement and Independence.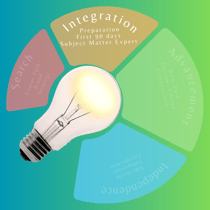 Congratulations on landing the job that will help your career strategy take off! With your two week notice given and start date confirmed, you are now waiting to start your new job. So, what can you do to prepare for this new venture?
Remember that first impressions began during the selection process and will continue throughout your first week on the job. By preparing for your start date, you can maintain a positive first impression. Here are some steps you can take to prepare for your new job:
Smooth Transition
Before you start your new job, it's important to wrap up any loose ends in your current role and ensure a smooth transition for your replacement. This will help you start your new job with a clear mind. Additionally, it's a good idea to connect with your co-workers, leaders, and anyone who was a part of your time at the company. Thank them and ask to continue to connect after you leave. Leaving on a positive note is important because you never know if your career strategy will bring you back to the company or connect you with former colleagues in the future.
Announcement
Landing a new job is a big accomplishment, and it's important to celebrate with your loved ones and business network.
Here are a few ways to announce the new role:
Post on Social Media – Share your new role on your social media accounts. In your post, include your job title, the name of the company, and what excites you about this new opportunity.

Email – Send an email to individuals who have helped you through your career search, those in the same industry or field, and your supporters. Let them know about your new job and express your gratitude for their support.

Have a party – A party is a great way to celebrate your accomplishment. Whether it's a happy hour, dinner, or a virtual Zoom party, it's a fun way to commemorate your achievement.
By announcing and celebrating this milestone, you will feel excited and motivated for your new role. It's important to take the time to recognize your achievement and the support of those around you.
Connections
Staying productive during the transition period is key, and connecting with key individuals is a great way to achieve that.
Before your start date, I recommend reaching out to your new colleagues and manager. This will allow you to start building relationships early on and gain a better understanding of the company culture. You can connect through a variety of methods, such as phone, email, or even social media.
By taking the initiative to reach out before your start date, you will demonstrate your enthusiasm and eagerness to be a part of the team. Additionally, it will help you to hit the ground running on your first day and show that you are ready to contribute to the company's success.
Next start building your professional network by utilizing LinkedIn. Start connecting with individuals at your new company, influencers in your industry, and anyone else who you believe would be beneficial in your new role.
For instance, if your new role involves recruiting, connect with co-workers such as hiring managers and individuals in the departments you will be recruiting for, potential candidates, as well as other recruiters in the industry.
By actively building your LinkedIn network, you will expand your reach and open up new opportunities for learning and growth. It is also an excellent way to stay connected with colleagues and industry peers, as well as stay up-to-date on industry news and trends.
Review
To ensure a smooth transition and a successful start in your new role, review your job description and research the company's values, mission, and culture. There are several resources you can utilize to gather information such as the company's website, Glassdoor, LinkedIn, and Indeed.
Additionally, reach out to individuals at the company and asking to connect before your start date. This will not only help you to build relationships early on but also provide you with insights into the company culture and any tips they may have for a smooth start.
By taking the time to do this research and networking, you will have a better understanding of what is expected of you and how you can contribute to the company's success. This will help you to hit the ground running and be more confident in your new role.
Ready for Day One
Here are some things that you can do to prepare for your first day:
Get enough rest the night before: Make sure you get a good night's sleep so you can wake up feeling refreshed and alert.

Plan your commute or check your technology: Check the route to your new workplace and plan how long it will take you to get there. It's always a good idea to leave early on your first day to avoid any unexpected delays. Or if your role is remote, ensure that your technology is ready to go for your first day.

Dress appropriately: Make sure you know the dress code for your new workplace and choose your outfit accordingly.

Bring necessary documents: Make sure you have all the required documents such as your ID, and any other paperwork your employer may have requested.

Prepare questions: Be prepared to ask questions and take notes on anything you may need clarification on.

Be positive and open-minded: Go into your first day with a positive attitude and be open-minded to learning new things and meeting new people.
By following these steps, you'll be ready to start your new job with confidence and make a great first impression. Now it is time to make your first week a success.