Career Cirlce: HR Job Seach Strategy
Jodi Brandstetter
The Career Circle Blog Series focuses on developing your HR Career Strategy through Career Search, Company Integration, Company Advancement and Independence.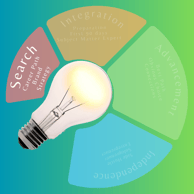 As a recruiter by trade, I have witnessed a lot of different job search strategies. Some apply to anything and everything. Others are very particular and only apply to a few roles. And a lot get opportunities from their network, family and friends without ever applying for a job.
Developing a comprehensive job search strategy is crucial to effectively align with your career strategy. To optimize your efforts, here are key factors to consider when formulating your strategy.
Review Your Career Strategy
Building upon the information gathered from the Career Strategy blog, it's time to map out your next steps in advancing your career. Consider the following questions to refine your approach:
What is the best career move today to achieve your career strategy?

What type of company should you target for your next job in terms of industry, size, location, and culture?

Who can you connect with to gain valuable support and assistance in your job search?

Where can you discover potential job opportunities?
Carefully addressing these questions will help you identify suitable positions, target desirable companies, establish valuable connections, and effectively engage with potential employers.
Job Search Toolkit
Your Job Search Toolkit encompasses all the essential elements needed to position yourself as the ideal candidate for any job opportunity. These resources will support you throughout your job search. Here are the key components:
Contact Information
Establishing what contact information you want to use for your online profiles and resume, it priority number one in your job search. If a company calls, emails, or texts you and you do not respond in a timely fashion, the company will move on. If your voicemail is not set up, they will move on. If you have an inappropriate email, they will move on.
Some tips with contact information:
Email: Create an email dedicated to your job search. This will ensure that you will see any emails that are sent. Also, always check your spam and junk folder. There is a chance an email may land in that folder from a potential employer. If it does, add the email to your contact list so that it does not go to your spam folder again.

Phone: Call your phone number and listen to your voicemail. If your voicemail is not set up, set it up with a professional voicemail message. Most companies will ask if you want to receive text messages. If you prefer text messages, make sure that you say yes so that the company can send texts to you.

Address: It is up to you if you want to add your address to your resume. If you prefer not to add your address, you could add the city and state or leave it off. If you are relocating, I would suggest obtaining a PO Box in the new city. This will help the potential employer see you as a local candidate.
Ensure that you are ready for communication from potential employers before you start your job search.
Big Resume
Prepare a well-crafted and up-to-date resume that highlights your skills, qualifications, work experience, successes, technology and education. Your resume will need to be customized for each role that you apply to.
At the beginning of your job search, create your big resume. Your big resume will have all of your information. This can be several pages. I suggest adding anything and everything to the big resume. The big resume will be used to create your customized resume.
Once you have a customized resume, save it as a new document and name it "Company.Job Title.Date". You do not want to mistakenly provide the wrong resume during the interview to the hiring manager. Recruiters and hiring managers will notice if the resume is different and this could cause you to lose the role.
Cover Letter Template
Every company, recruiter and hiring manager has an opinion on the cover letter. Should you have one or not? Will anyone actually read it? And the answer is maybe.
I have seen companies specifically ask for a cover letter so I encourage you to have a cover letter template that you can use when you need a cover letter. And just like the resume, you want to customize for each company and save it under "Company.Job Title.Date".
References
Compile a list of professional references who can vouch for your skills, work ethic, and character. Include their names, contact information, and their relationship to you. Inform your references in advance and ensure they are willing to provide a positive recommendation. Also, ask your references to recommend you on LinkedIn.
Online Presence
Employers will Google you or look at social media to find you. I had a hiring manager who searched Facebook for a candidate and got super excited about the candidate. The candidate was a former professional baseball player. Well, actually the candidate was not a former professional baseball player. That was a different person. I had to explain this to the hiring manager and encourage him to look at the candidate's resume to see his preferred social media platform. The candidate listed his LinkedIn profile so I had the hiring manager go there to see the candidate.
I suggest you Google yourself and see what comes up. Is there someone with the same name? Did you forget that you were on different websites that had old information or inappropriate information? Does nothing come up and you look like a ghost? Take the time to review your online presence, update what needs to be updated and add what needs to be added.
Portfolio
If you are able to provide work samples or achievements, I would encourage you to have a portfolio to showcase these. The portfolio can be a virtual or a physical portfolio.
Professional Attire
People always say "Dress for the job you want." Your first impression during your job search in person is typically the interview. And what you wear does count towards that first impression. When interviewing for an HR or leader role, you want to dress to impress in a professional manner. Also, you want to wear something that you are comfortable with. Always have a professional outfit ready to go that you feel confident and comfortable in.
Job Search Tracker
I was working on a hard-to-fill sales role for a client and finally had a candidate who applied to the role that looked like a good fit. My process at the time was to send my calendar for the individual to set up a time for a phone interview. And the candidate scheduled time on my calendar. I was excited to finally have a potential candidate for this role. I believe in celebrating small wins through the recruiting process! On the day of the phone interview, I called the candidate. And he picked up (another success!)! When I introduce myself to him, he said, "I'm sorry. I do not remember what role or company this is. Can you tell me please?" Ouch! He did not remember the company and role that he applied to. This is one of my biggest pet peeves.
A job search tracker can help you ensure that you do not do the same thing as this candidate. Keep a record of the jobs you have applied for, including the company name, position title, application date, resume/cover letter you sent and any relevant notes or follow-ups. This will help you stay organized and manage your job search effectively.
Now that you have your Job Search Toolkit, it is time to decide where you are going to look for job opportunities.
Job Search Logistics
When searching for jobs in the HR or leadership area, there are several websites, your network and networking groups you can consider.
Websites
Here are some of the best websites commonly used for finding HR & Leadership job opportunities:
LinkedIn: LinkedIn is one of the top career sites and a lot of recruiters use this site to source candidates for HR and Leadership roles.
Indeed: Indeed is a leading job search engine that aggregates job postings from various sources, including company websites, job boards, and recruitment agencies. It has a user-friendly interface and allows you to filter your search based on location, salary, experience level, and more.
SHRM (Society for Human Resource Management) Job Board: The SHRM job board is specifically dedicated to HR professionals. It features job listings from reputable organizations and allows you to search by job title, location, industry, and experience level. Local SHRM associations typically have job boards as well.
HRJobs: HRJobs is a specialized job board focused on HR positions. It offers a comprehensive selection of HR job listings, including roles like HR manager, recruiter, benefits specialist, and more.
ExecuNet: ExecuNet is a specialized platform catering to executive-level job seekers. It provides access to exclusive executive job listings and offers networking opportunities with other executives and recruiters.
TheLadders: TheLadders focuses on high-level positions, including executive and senior leadership roles. It offers curated job listings and personalized job matching based on your preferences and qualifications.
Remember to consider niche or locally-focused job sites as well. However, relying solely on websites for job opportunities is not recommended.
Your Network
Your networking including peers, former co-workers, family and friends can help you get your next job. It is important to connect the dots between job opportunities and who you know.
Be open to letting the people around you know that you are looking for a new job. They know you and will be a great help to your job search.
Networking Groups
Joining networking groups is a great way to find out about potential job opportunities. There are networking groups that are focused on industry, location and interest.
There are several HR and Talent networking groups/associations like SHRM, Association of Talent Acquisition Professionals (ATAP), Association Training & Development (ATD), etc. Also, there are several leadership/executive networking groups like Vistage, COO Forum, The CEO Roundtable, Women Presidents' Organization, etc.
I would recommend you review or possibly attend several groups/associations before making a decision on where you want to spend your money and time.
Now that you have identified the roles and companies you are targeting, understood the essential tools for your Job Search Toolkit, and considered the logistics of your search, it's time to focus on developing your personal brand and positioning yourself as the obvious choice for the role.